FPHS TECH SUPPORT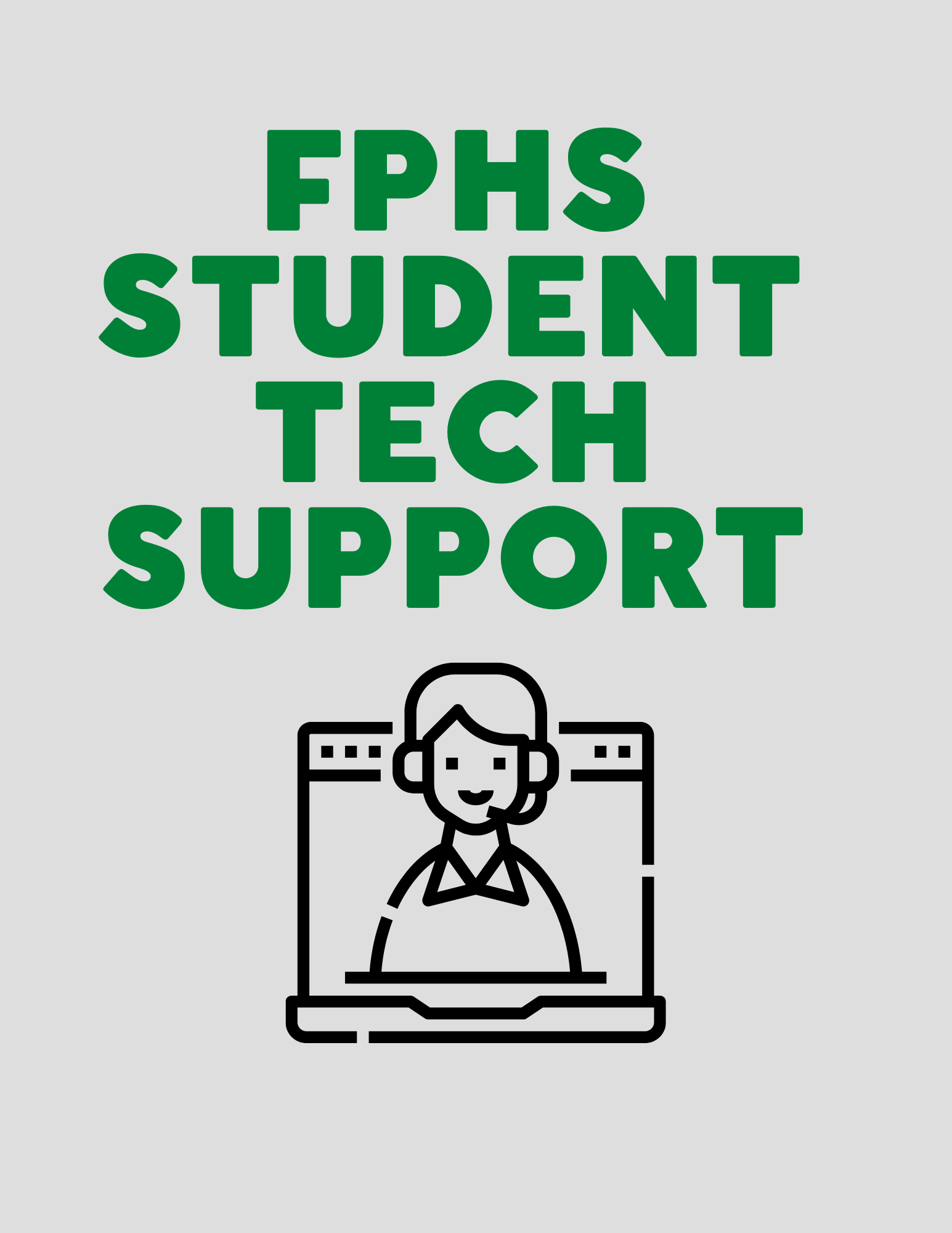 Students: In Need of Technical Support? 
First Steps:
Restart your computer!! Did it fix the problem?
Check out the FPHS Technology Protocol
Next Step:
Fill out our Technology Help Request
Once you submit the request, you will be contacted with instructions on how and when to receive assistance. 
Things to Know! 
Help with Usernames:
All new and returning students: We want to make sure you know/remember your username. Please use the following formula:
Username = First six letters of student's last name, first initial, middle initial and two-digit graduation year (Your email will be your username followed by @pwcs-edu.org.
Example: If your child's name was John Forest Green and he was a Junior, Class of 2024, his username would be: GreenJF24@pwcs-edu.org. 

*Note: ParentVue has the students email address

**Students watch this Video for help getting Canvas setup
**Parents watch this Video for helping with your Canvas setup

How do I log in to Zoom? (Student/Employee)
-From a web browser: Log into your Office 365, click on the grid in the upper left corner of the screen, select all apps, find Zoom in the list (it will be at the bottom). Or sign in at https://pwcs-zm-edu.zoom.us/
-From the Zoom application: Select Sign in with SSO, if asked to provide a company domain enter pwcs-zm-edu, hit continue, You will be prompted to sign in to Office 365 and then prompted to "Open Zoom Meetings"
**Watch this Video for support as well
Parents, Need to Know More?
Password Reset
(Students, Parents, and Employees)
We understand that at some point you may have to reset your password. It happens to all of us. Don't worry, resetting your password is simple. However, if you do encounter difficulty, the Help Desk is available to assist.
Frequently Requested Links
PWCS Technical Support
Contact the PWCS Help Desk by calling 703-791-8826
Hours of Operation: The Help Desk is staffed Monday-Friday, 7 a.m.-4:30 p.m. when schools are in session and 8 a.m.-4 p.m. when schools are not in session. The Help Desk will not open whenever schools are closed on a Code Red. Hours may vary on Code Green days based on weather conditions.