Principal's Advisory Council 2022-23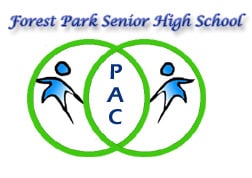 MAKE A VITAL CONTRIBUTION TO YOUR CHILD'S SCHOOL
JOIN THE PRINCIPAL'S ADVISORY COUNCIL
The PAC serves both a representative and advisory function to assist and support our school Principal and Leadership Team by:*
Developing the school plan to include objectives, strategies, and action plans.
Aligning the school plan and action plans with the Division Strategic Plan;
Aligning the school budget with the school plan;
Reviewing the alignment of the school professional development plan with the school plan;
Monitoring and evaluation of the implementation of the plan; and
Assuming other responsibilities as deemed appropriate by the principal and school.
---
Membership
All segments of the school community are represented in the PAC, to include school staff, parents, students, and community members.
If you have questions regarding membership, please contact PAC President John Avelis at javelis3@mac.com
Registration-stay tuned for updates
Forest Park High School
---
FPHS PAC Board 2023-24
Updates coming
---
Support our School Community and Join the PAC!
---
*As outlined in PWCS Regulation 230.01-1
---
2022-23 School Year Agendas and Minutes
2021-22 School Year Agendas and Minutes
9/27/2021 Approved Minutes

10/25/2021 Agenda
10/25/2021 Minutes

11/29/2021 Agenda
11/29/2021 Minutes
1/31/2022 Agenda
1/31/2022 Minutes
2/28/22 Agenda
2/28/22 Minutes

3/28/22 Agenda
3/28/22 Minutes
4/25/22 Agenda
4/25/22 Minutes
5/23/22 Agenda
5/23 Draft Minutes
2020-21 School Year Agendas and Minutes
2019-20 School Year Agendas and Minutes
9/23/19 Agenda
9/23/19 Draft Minutes
9/23/19 PowerPoint Presentation
10/21/19 Agenda
10/21/19 PowerPoint Presentation
10/21/19 Approved Minutes
11/18/19 Agenda
11/18/19 Approved Minutes
Important Links discussed at the 11/18 meeting
PWCS CIP
PWCS Superintendents Advisory Council on Instruction
No meeting December 2019
1/13/20 Agenda
1/13/20 Approved Minutes
2/10/20 Agenda
2/10/20 Draft Minutes
2/10/20 PowerPoint Presentation
5/18/20 Notes from Zoom Call
Past Meeting Minutes & Information
9/24/18
10/29/18
11/26/18
No Meeting December 2018
No Meeting January 28, 2019
2/25/19
3/25/19
*Please Review the Original By-Laws (PDF) and Draft Changes (PDF) for the April 29, 2019 meeting*
4/29/19
5/20/19
2017-18 PAC Meeting Minutes
9/18/17
10/23/17
11/20/17
No Meeting December 2017
2/26/18
3/20/18
4/24/18
2016-17 PAC Meeting Minutes
9/19/16
10/24/16
11/14/16
No Meeting December 2016
1/9/17
2/13/17
3/20/17
4/24/17
2015 Information
September 2015 Agenda
Approved Minutes September 2015
Presentation September 2015
Agenda October 2015
Balanced School Report Card Information Flex Scheduling Presentation Flex Scheduling Calendar
Superintendent's Advisory Council on Instruction October 2015 Presentation
Agenda November 2015