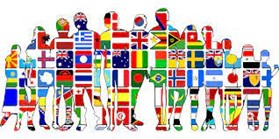 Forest Park High School Multicultural Night
March 3rd, 2023
7:00 – 9:30 p.m.
What is it?
·         A place to show everyone your story 
·         A place to share your voice 
·         A place to show your traditions
·         A place to learn about others' cultures
·         A student led initiative to show the abundant representation of cultures present at Forest Park High School
How can you get involved?
·         Presentations – Tables, Booths
·         Performances – Sing, Dance, Fashion Show
·         Food Tasting – Bring a dish from your culture – (all dishes must have a list of ingredients)
·         Volunteering
Contacts:
For Education:
For Performance: 
For Food:
 Click on the headings to open the links or scan the QR Codes below to access the sign-ups.